Wednesday, 10 January 2018 | Agni Skafidas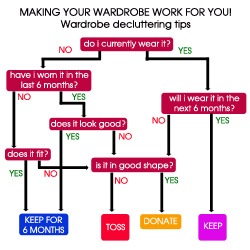 Morning hours can be so precious and the last thing you need is additional stress – created by your wardrobe!
Take the first step to decluttering and updating your wardrobe. We suggest taking a phased approach and going section by section. You can start with your tops, then move to your trousers and finish with your undies, for example. This way, the process doesn't become overwhelming and you can enjoy immediate improvements.
Let's start with tops as an example. Pull all your tops out of your wardrobe and put them into one area such as your bed. This gives you a great overview of what you own and you can review each item by asking yourself a few simple questions.
Tuesday, 1 August 2017 | Sally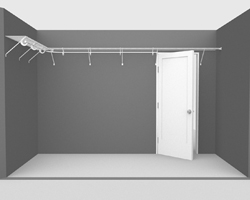 ... We're not trying to be your mum and convince you that "you're special", but really - how many of you have are standard?
How many people have a "standard size" or "standard shape" space or even "standard requirements" for your storage?
There is a much higher percentage of people that might like our standard packages, but will need a tweak to the design to better suit their space or needs, and that's OK because our custom design service is FREE!
Yep, FREE.
Send us in the dimensions of your space, and let us know what you're using it for (is it the next Carrie Bradshaw closet? Or perhaps a Nigella influenced pantry?) and our talented team will make your storage dreams come true.
A common misconception of our custom design service is that we only design complicated or difficult spaces.
NOT TRUE.
However simple your space, we're happy to help and get you the solution you need to make the most of your storage space.
Read more to find out how Patricia got on with our custom design service...
Wednesday, 3 May 2017 | Sally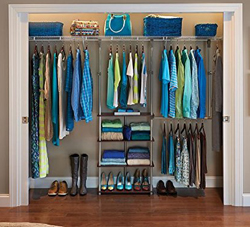 The ClosetMaid Maximiser is the simplest way to organise your existing wardrobe!
In one box, this simple kit provides shelving and additional hanging space which requires no fixing, only the need to secure it to an existing hang rail/ bar in your current wardrobe!
In this video you can see the benefits and how easy it is to assemble!
2 Comments
Monday, 21 November 2016 |
Sally

The ClosetMaid range is very diverse and we're pleased to offer multiple size/ finish and fixing options to suit your budget and space!
However, with all this choice, it can sometimes be daunting to select the system that will work best for you.
Here we have made a comparison between our Regular Fix & ShelfTrack fixing methods to help you narrow down your choices!
Monday, 7 November 2016 | Sally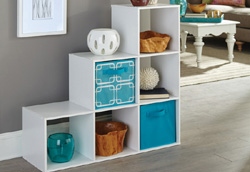 NOW is a great time to get organised with APDO UK and ClosetMaid!
From 7th - 13th November, we're celebrating National Organising Week with a special discount just for you!
10% off the entire ClosetMaid Cubeicals range to kick start your organising and decluttering plans!