How do you use ClosetMaid's Cubeicals fabric drawers?
Tuesday, 2 June 2015 | Sally
We could all do with some inspiration when it comes to organisation and storage around the home.
It's great for us to see how our customers put their new storage systems or products to use, so we thought we'd start to share some of the best one's so that it can help inspire others to get organised or make the most of their space.
This idea is so simple, but read on to find out how Emma made use of some fabric drawers in her wardrobes...
"These Cubeicals Fabric Drawers have helped to transform my wardrobes. The image is of my son's wardrobe, but I also use them in my own to help keep things organised and being a short person, I find that the handles are really useful to grab items... on the top shelf!
In my own wardrobe I'm able to organise my things into seasons, or keep spare toiletries on the top shelf so that I can keep everything that I use day to day to hand, and keep everything that I use less regularly neat and tidy. I find the boxes are strong enough to keep their shape even when filled to the top with heavy things like bottles of shampoo and hair products!
In my son's wardrobe I've found that the bright and colourful drawers help me to co-ordinate the colours with the design of his room, and again help me to organise everything neatly.
I've also started using luggage/ gift tags to label each drawer which has been ingenious as it stops the other half from saying, "I can't find..."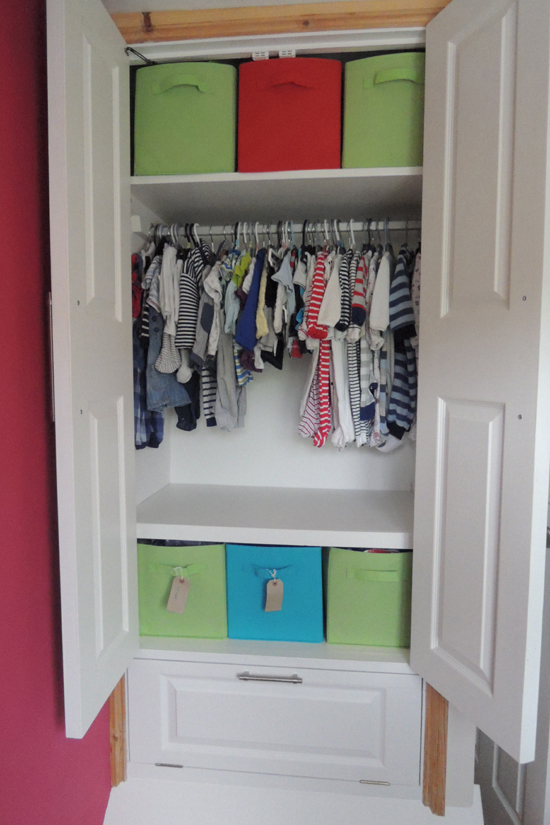 We think your son's wardrobe looks super organised! And we love the colour choices you have made.
Do any of our readers have examples of their ClosetMaid storage solutions in use?
Let us know and send us some pictures.