*Kit Of The Week*
Friday, 13 May 2016 | Sally
Fancy a walk in wardrobe? This weeks kit of the week is our Walk in Wardrobe Package #8.
For one week only, you'll also get a 10% discount!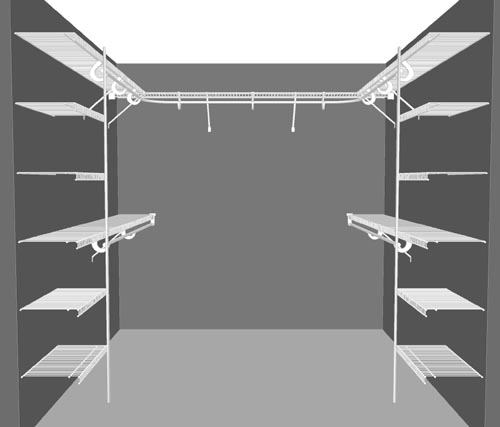 This walk in wardrobe package comes complete with everything you need to turn a U shaped space into a functional walk in wardrobe.
Available in sizes from 1.83m/ 6' square - 3.05m/ 10' square.
Is your room not quite square? Or perhaps a touch smaller than the available sizes? Don't worry, you can trim ClosetMaid wire shelving using a boltcutter or hacksaw. Simply select the size nearest to your available space and trim. Use the end caps provided to hide any cut ends and create a neat finish.
You can also choose to upgrade from 12" (30.5cm) deep shelving to 16" (40.6cm) deep shelving. Order by 20th May for a 10% discount!
Find out everything you need to know about this walk in wardrobe kit by clicking here!