Welcome to our new look website!
Saturday, 8 August 2015 | Sally
We're excited to launch our new look website!
We've been working on this project for a number of months, and we're finally ready to show off the changes which we hope will help to make your shopping experience with Organise My Home even better!

So what's new?
Navigation
We have a LOT of storage products and solutions available on OrganiseMyHome.com and this is great for offering choice to our customers, but in the past it has meant navigating our website has been a little difficult! We've simplified navigation by adding the main shopping navigation bar to the top of each page: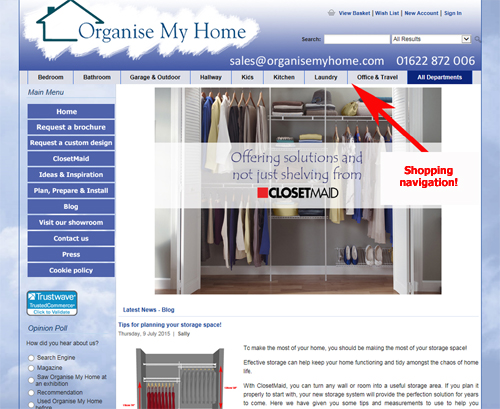 Find products by selecting the room you'd like to shop for, and find all relevant products as well as links to the gallery and installation pages in each category to help you find everything you might need in one place!
Design Request Form
Our FREE custom design service is very popular and our team do a great job in helping you make the most of your storage space, but we've found that the form often doesn't help when dealing with odd shaped rooms. So we have introduced an upload tool so that if your room is not a "standard" size or shape, you can upload a photo, sketch or plan view of your room to help our team understand your space!
Ideas & Inspiration
We can all use a little inspiration at times, so we have updated our Gallery to showcase some fantastic ways you can use the ClosetMaid system to help maximise your storage space while creating a great looking solution too! We've also included links to the gallery in each shopping category so you can easily find new ideas as you shop.
Plan, Prepare & Install
This is a great addition to the new website to help you complete your next storage project with ease!
Our ClosetMaid range is particularly popular and offers solutions and shelving systems, but this page will help you plan your own space if you'd like to design and order a custom solution. You will also find tips on how to declutter, how to organise your new storage system, and how to install your ClosetMaid shelving. It's a great hub to find all the basic information you may need to consider before you start your project!
Blog
Our blog has been active for a number of years now, bringing to your attention new products, services and showcasing videos, guides and tips for your storage project. But we've made it easier for you to find our blog with a link on the left hand side of each page. Happy reading!
Design tips
Although we offer a free service to help you, many customers like to design their storage systems themselves. We've compiled a number of guides which show you step by step tips on how to design even awkward shaped rooms to make sure you get the most out of your storage system. Keep checking this page as we add more guides and videos!