Get Ready For A Warm Welcome...
Wednesday, 30 October 2013 | Sally
Now is the perfect time to get your home organised and ready for guests. Whether you're throwing a festive season party and need a quick fix for the coats and shoes, or if you're hosting Christmas with relatives in the spare room, we have products and tips to help reduce the clutter and stress!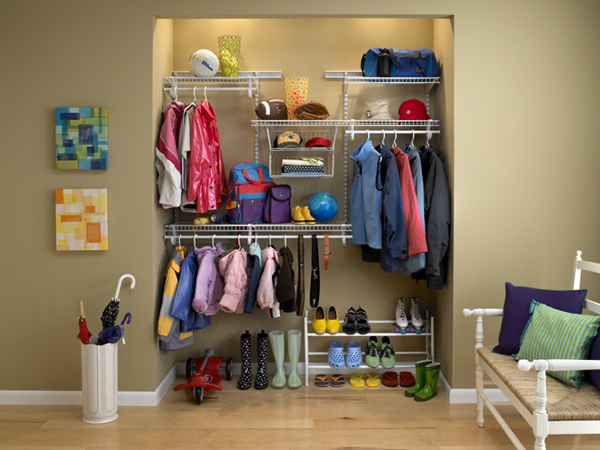 With just 8 weeks to go until Christmas, is your home ready for the extra people and stuff that comes with this special time of year? Love it or loathe it, Christmas at least gives you a good excuse to have a good de-clutter and spend time worrying about the family, rather than the state of your home. So why not take a look at some of our products that will help give you solutions for the rooms in your home that often get forgotten but need just as much attention!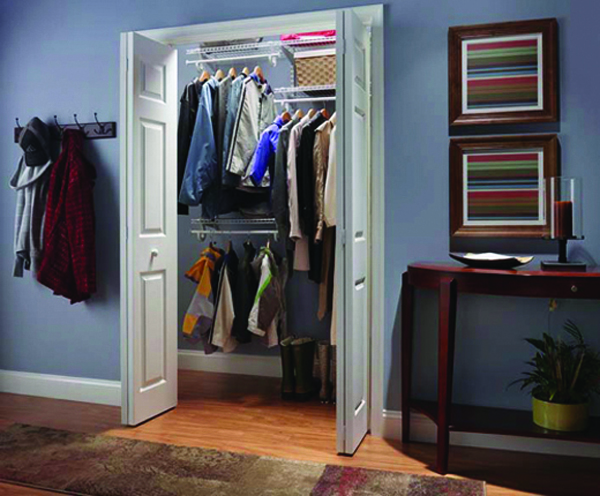 The best place to start when organising your home for guests, is the entrance hall or mudroom/ coat area. Maximise the space you use for storing jackets, coats and shoes, and you'll instantly create a clutter free and welcoming home. Consider our ClosetMaid wire shelving systems for a simple and budget friendly option. The best thing about our ClosetMaid range is that you can install it into an existing built in cloakroom cupboard or you can simply install the shelving onto a section of wall in your hallway or cloakroom, so there's no need to create end panels in order to install your new storage system. You can keep the space open so that everyone can see where their coats etc. are stored, or add some simple bi fold doors across the area to cheaply hide the clutter away!
We offer packages like the image shown above, which offers two tier hanging space for jackets, helping you to make the most of the height of your space and instantly double your storage. You can also add long hanging section for full length coats or macs, or why not add a shoe rack for all those boots, trainers and slip ons? You can see the range of hall closet storage systems by clicking here.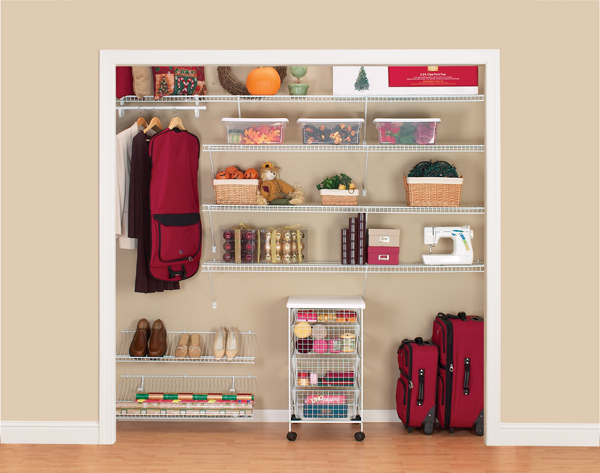 Guest bedrooms are a real luxury, and a guest closet is an even bigger one! Not least because when there are no guests you can use the space for yourself! And why shouldn't you? Don't feel guilty about utilising the closet or storage space in the spare bedroom. You need to make storage work for you in the home, whichever room it happens to be in, but make sure you include some clever features to quickly revert the storage space into guest storage when you do have visitors.
This clever layout allows you to maximise the storage space in a guest closet for both you and your guests. Create a simple shelving system for items that aren't used very often, luggage, Christmas decorations, spare bed linen and towels, toys for when the Grandchildren come to stay...etc. but simply add a hang bar and shoe rack to create a storage area for your guests when they are in residence. This way you can use the space all year around, but can still offer your relatives or friends somewhere to hang their party frock!
Need some help? Why not ask our design team to come up with a plan for you? Just provide your dimensions and tell us what you'd like to use the space for (i.e. guest bedroom / master bedroom etc.) and our team of talented designers will create something for you! Click here to request a custom design.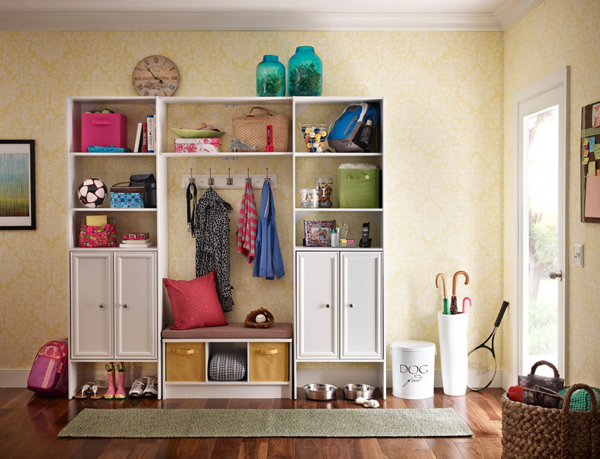 Go the extra step and invest in a laminate package to organise your hallway or entrance closet to give a bit of extra wow factor, and make your home fabulous even after the party season is over! This image shows our white Selectives range with a White Cubeicals Bench. It's easy to use the modular items to create your own design or you can click here to view the packages that we offer so there's even less to think about! Add shelving and hang bars for hats, gloves, coats and jackets. Include doors to hide away bits and pieces and clutter or add drawers for each family member to keep their accessories neat and tidy!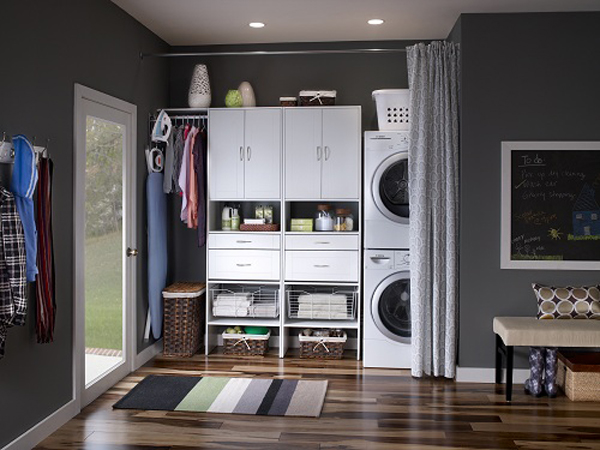 Creating a neat and tidy laundry area is also a great way to keep on top of the housework at this busy time of year. Create a storage solution that allows you to store clean and dirty washing, add a hanging area for items that need to be dried out and throw in some space for cleaning products and ironing boards and your home will reap the benefits! Just like in the picture above all you need a spare wall to install a shelving system onto. You can find doors to install afterwards or even a simple curtain to cover it up when not in use. Click here to see what else we do to help you get your laundry space / room organised!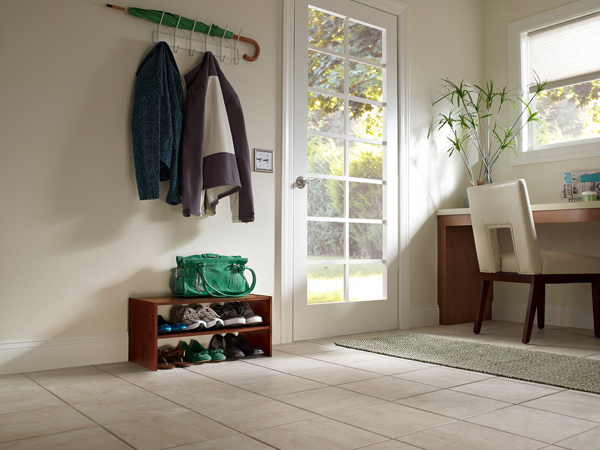 Need a simpler solution? Add one of our 24" stackers available in Cherry (above), Maple or White and instantly create storage space for shoes! Buy two or more and stack to make the most of your available space. Use a coat hook above to create a cheap and cheerful but organised entrance hall storage system.
Find our available stackers by clicking here.
Find our coat hooks by clicking here.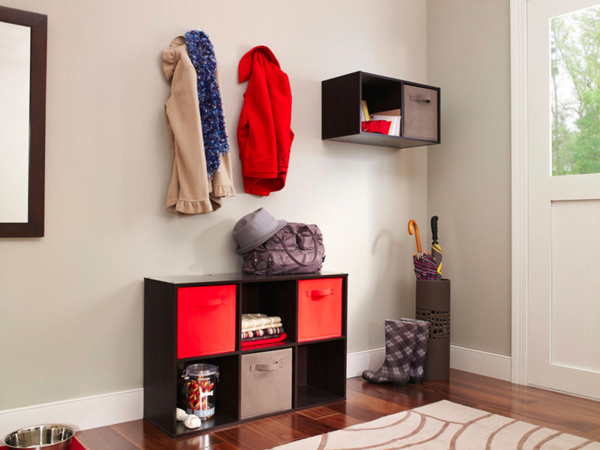 Finally, our ever popular Cubeicals range is ideal for creating a quick and simple storage solution all around the home. Use our Espresso units to create a warm finish. Available in 2 Cube (shown), 6 Cube (shown), 8 Cube and 9 Cube sizes, you'll find one to fit right in with you and your home!
Click here to see the entire Cubeicals range!