Add Accessories To Complete Your Look With Selectives
Friday, 27 May 2016 | Sally
This week ClosetMaid Selectives Closet Organisers are on offer as part of our Kit Of The Week promotion.
So now is a great time to get an organised closet using the Selectives range.
But did you know we have some great accessories as part of the range that make it easy to personalise and create a storage solution to suit your exact needs?
The Selectives Wire baskets are brilliant for adding simple drawer space to your closet organiser.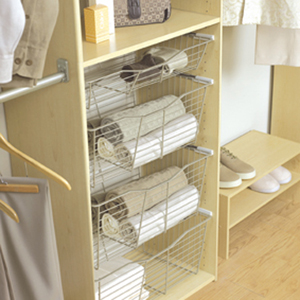 The Closet organisers come with adjustable shelves so that you can select the position of them to accommodate some additional accessories, or do away with some altogether and add even more accessories! These wire baskets come in white / nickel to match the hang bars and hardware included in your closet organiser.
You can choose between a deep drawer and a shallow drawer, and use them to store accessories, underwear, folded garments, dirty laundry, toys, books, even stationery!
Click here to view the range of add on accessories which are compatible with the Selectives range. Remember that until June 6th there is also a 30% discount on Closet Organisers!