Monday, 12 March 2018 | Lesley Spellman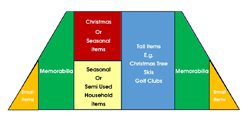 When people are embarking on a declutter, trust me, the bottom of the list is always their understairs cupboard or their loft. Why? Because it's the place that is filled with all that random stuff that just doesn't have a home anywhere else in the house and there is LOTS of it. Hoovers, mop buckets, swimming bags, bags for life, wellies, tools – you name it, you fling it into the abyss that is the understairs cupboard and it never comes up for air. Old kettles, memorabilia, suitcases, summer clothes, books, pushchairs, hand me down clothes, all get pushed up through the loft hatch and gather around the top of that loft ladder waiting to be loved...
Wednesday, 10 January 2018 | Agni Skafidas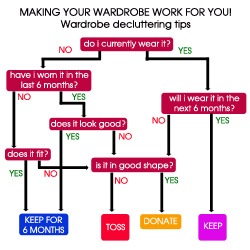 Morning hours can be so precious and the last thing you need is additional stress – created by your wardrobe!
Take the first step to decluttering and updating your wardrobe. We suggest taking a phased approach and going section by section. You can start with your tops, then move to your trousers and finish with your undies, for example. This way, the process doesn't become overwhelming and you can enjoy immediate improvements.
Let's start with tops as an example. Pull all your tops out of your wardrobe and put them into one area such as your bed. This gives you a great overview of what you own and you can review each item by asking yourself a few simple questions.
Wednesday, 8 November 2017 | Hannah Young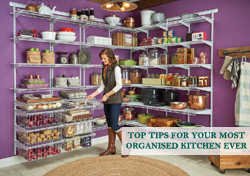 Here are some great tips for a pre-Christmas kitchen detox and organise to help prepare for the festive season ahead.
As 'The Minimalists' say: The easiest way to organize your stuff is to get rid of most of it!
So as you're whipping your kitchen into shape, cull as you go; you'll have less stuff to clean, break or tidy and more time for cooking and baking.
Monday, 6 November 2017 | Sue Darby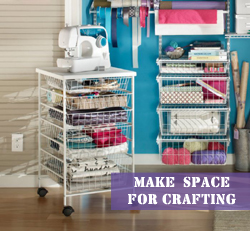 If you love crafting you're not alone.  Whether it's scrapbooking, making cards or jewellery, these hobbies have grown in recent years - but modern living challenges us to squeeze every inch of useful space from our homes.
Few of us are lucky enough to have a dedicated craft room, but that doesn't mean a gloriously organised space for creativity is out of reach.
Tuesday, 17 October 2017 | Sally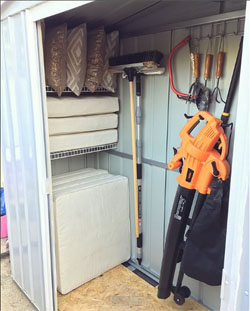 For any of you that follow Mrs. Rackley, you'll know that her home is just organisation GOALS!
Her Instagram perfect house is always so neat and tidy, and we were thrilled to be able to help her organise her new garden shed.
To get her look and inspiration for your next storage project read on...