Wednesday, 21 October 2015 | Sally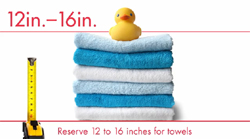 *ClosetMaid Quick Tip* - Watch the ClosetMaid quick tip video to get an idea of spacing between shelves when designing your own linen or pantry storage system!
Wednesday, 7 October 2015 | Sally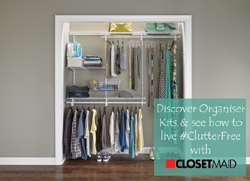 ClosetMaid Organiser Kits are a simple and effective way of creating order in your wardrobe, closet, coat cupboard, utility room...pretty much anywhere around the home.
We have a brilliant range of styles and sizes to choose from to help you find a solution to suit your needs.
Our Organiser Kits are pre-packed to include all shelving and hardware you need to create the design as shown in the images and product description. If you choose one of our adjustable Organiser Kits, you have even greater flexibility to change the position of shelves etc. to meet your requirements!
Read on to find out more about our ClosetMaid range.
Saturday, 3 October 2015 | Sally
*Special Offer* - We're offering a FREE set of our flock and wooden hangers to everyone who receives a free custom design and places their order with us by November 30th 2015!
The Total Wardrobe Hanger System includes 12 hangers in pink and chocolate finishes, to give a fresh start on getting completely organised this Autumn!
Read on to find out more!
Thursday, 1 October 2015 | Sally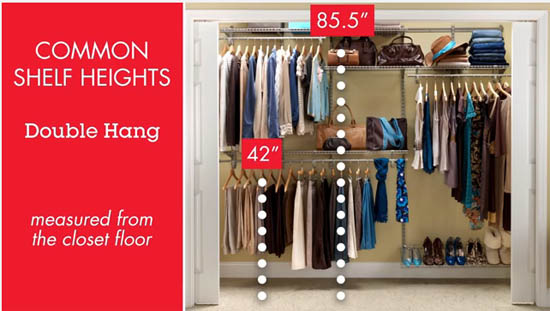 *ClosetMaid Quick Tip* - Want some advice on how to measure your closet/ wardrobe space? Watch the ClosetMaid quick tip video to show you what you need to measure and how much space to allow for different sections in your closet.
Tuesday, 22 September 2015 | Sally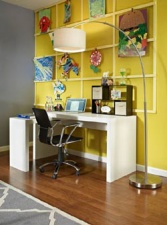 *Organising Tip* - Now that the new school term has started, is your home office or kids homework space well organised?

The ClosetMaid Mini Cubeicals range is the perfect solution for adding simple storage space to any desk or work space area. Freestand or wall mount and add colourful fabric drawers to complete your look. Seen here is our Espresso Offset Mini Cubeicals organiser with Natural Fabric Drawers.