Thursday, 11 February 2016 | Sally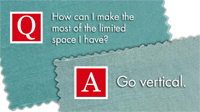 One of the common mistakes we see in Closet Design are people not making the full use of their available height.

The same can be said for any storage space around the home.
If you have an available wall, it's easy to maximise your storage space, and regain closet/ floor/ worksurface space by going up!
Monday, 1 February 2016 | Sally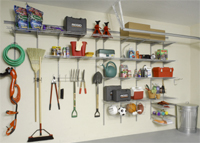 The ClosetMaid Maxium Load Shelving system is a great way to get Maximum Storage capacity from your space.
Ideal for garages and utility areas, it is durable and heavy duty system, capable of supporting up to 600lb for a 1.83m/ 6ft shelf!!
Find out more about the range here...
Thursday, 21 January 2016 | Sally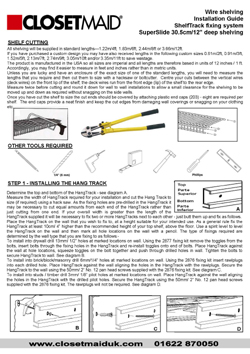 We have a library of Installation Instructions for our ClosetMaid shelving, units and accessories which we're updating.
Our most popular items are already included, so if you've lost your instructions, or perhaps you just want to have a look before you commit to your purchase, click here to find out more...
Wednesday, 6 January 2016 | Sally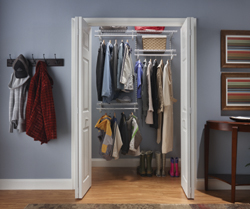 New Year, New You?
Well the same can be said for your home!
After the festive period is the perfect time to take control of the clutter around the house and Get Organised!
Here at Organise My Home we have come up with a few simple steps to help you kick start your home cleanse this January....
Thursday, 26 November 2015 | Sally

Please note that the office will close at 17:00 on Wednesday 23rd December 2015 and re-open at 9am on Monday 4th January 2016.
Last Orders before Christmas:
Orders can be placed as normal via our website throughout the festive period - 24 hours a day, seven days a week. If you need any assistance please e-mail rather than 'phone: sales@organisemyhome.com