About ClosetMaid & Organise My Home
Thank you for considering ClosetMaid for your home storage needs.

Originating from Florida, USA; ClosetMaid is a manufacturer of home storage systems. Our popular ventilated wire shelving system was designed to help allow air to circulate around stored goods in the humid conditions of Florida in the 1960s. Today, it is relied upon as an innovative and versatile storage system across the globe. Made from 90% recycled steel, our wire shelving provides customers with flexible storage solutions for use in wardrobes, linen cupboards, garages, pantries and more!
Here at Organise My Home, we are proud retailers offering our customers even more value for money by providing a free design service allowing customers to maximise their storage potential. Space is a premium here in the UK, so our team are adept at designing systems that will not only suit the space, but also your budget.
Discover our website to find out more about how we can help you, or how you can buy "off the shelf" solutions and adapt them for your space.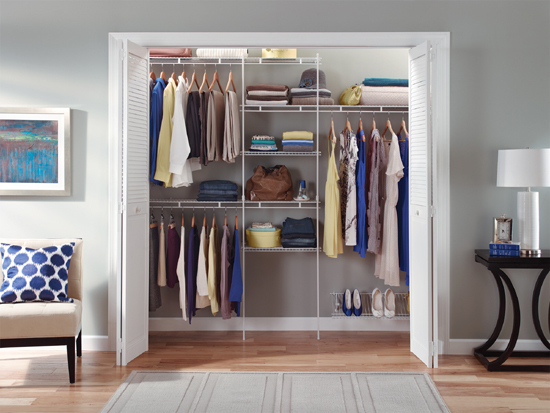 What is ClosetMaid?

ClosetMaid is a well known and established brand in the USA, Australia, Asia and South America. Their main products are steel wire shelving systems that create wardrobe, linen cupboards, pantries and garage storage systems. As well as innovative and affordable wire shelving solutions, ClosetMaid also produce a whole range of accessories to complement their shelving systems. They have been producing wire shelving in the USA for over fifty years, and we are pleased to be supplying their fantastic systems to consumers in the UK!

What are the shelves made from?

ClosetMaid wire shelves are made from drawn steel with a patented formula white vinyl. The white vinyl gives a clean and simple finish which is easy to wipe down and maintain and helps prevent rust and corrosion. Our fixing components are made slightly differently. Some of the components are made from white moulded plastic, whilst others are made from steel with a white painted finish. As well as our wire shelving systems, we also have a laminate range brand new to the UK. This range offers great storage systems, with very basic packages or optional accessories to help you create your perfect closet.

What can I use ClosetMaid for?

ClosetMaid can be adapted to suit any storage requirement. Whilst we specialise in walk in closets, we have completed projects for anything from a Study - a Garage. Our Regular wire shelving is ideal for closets and airing cupboards but we also have especially designed CloseMesh shelving, with closer spacing between the wires to help prevent small items slipping through the gaps, ideal for Kitchens / Pantrys. As well as our CloseMesh shelving, we also have a heavy duty range of shelving, ideal for upholding the strains of heavy and bulky items, typically found in the garage or work shop. Maximum loads fixing method is such that it allows shelf positions to be adjusted as well as supporting shelving for the full depth of the shelf to prevent sagging.

How to purchase ClosetMaid

ClosetMaid is available in many formats. You can choose from one of our standard layouts. Pick the one that suits your requirements and is nearest to your size. If your enclosure is slightly smaller than the size you have purchased, simply trim off the excess with a hacksaw or boltcutters to give your closet the perfect fit. If none of our standard layouts suit your requirements, you can request a custom design. Our design service doesn't cost a thing. All you need to do is send us your dimensions and we can do the rest. If you'd rather have a go at designing your own storage space, simply visit our create your own section and order the individual parts and components. If you need some advice, don't hesitate to contact us. Or why not take a look at our assembly and instruction section where you can find helpful tips and guides to give you an idea before you start.
Who are Organise My Home?
Organise My Home is an online retailer of home storage and organisation systems. We specialise in the ClosetMaid system and offer design services to customers who are not quite sure where to get started when creating their space. Organise My Home have a small team of designers based in Tonbridge, Kent who know the product well and have years of knowledge and experience in designing systems that provide optimal storage in your available space, even in awkward spaces. Our team are well practised in dealing with sloping ceilings, working around obstacles and suggesting designs and products that will maximise your storage potential.
We are a small family business and have worked with ClosetMaid and other brands for over 20 years. As Organise My Home, the business has been operating for 15 years and the family alongside a small number of staff who work to support us, deliver excellent customer service whilst enjoying the development of our product range to offer solutions to every day home problems!
How does Organise My Home differ to other wardrobe brands?
There are many products out there, from modular systems to bespoke hand finished wardrobe systems. At Organise My Home we like to think we sit somewhere in between and offer our customers products and a service in that middle ground gap! We specialise in ClosetMaid, so we only offer their versatile Wire shelving systems. This allows us to strip out some levels of service which would be needless for a wire based system. Our design service for example, does not require professional survey in the first instance, as we're able to work from the dimensions that our customers provide. To allow for any mistakes or variances in the measurements, we provide everything to the nearest foot (30.5cm), so that you have some flexibility when it comes to installation. You can cut any shelving that's overlength, simply with bolt cutters or a hacksaw and we provide end caps for the ends of all shelving and hang bar for a neat finish. We also provide our systems as a DIY installation kit. Once you have purchased a package or a custom design, our team create personalised instructions for the system you have ordered, and package everything clearly and flat packed for easy delivery nationwide. This means you can either install it yourself, or hire a local handyman to assist, keeping the costs down but also giving you the flexibility to choose your own professional if required.