5 Ways With ClosetMaid Cubeicals!
11 June 2015 | Sally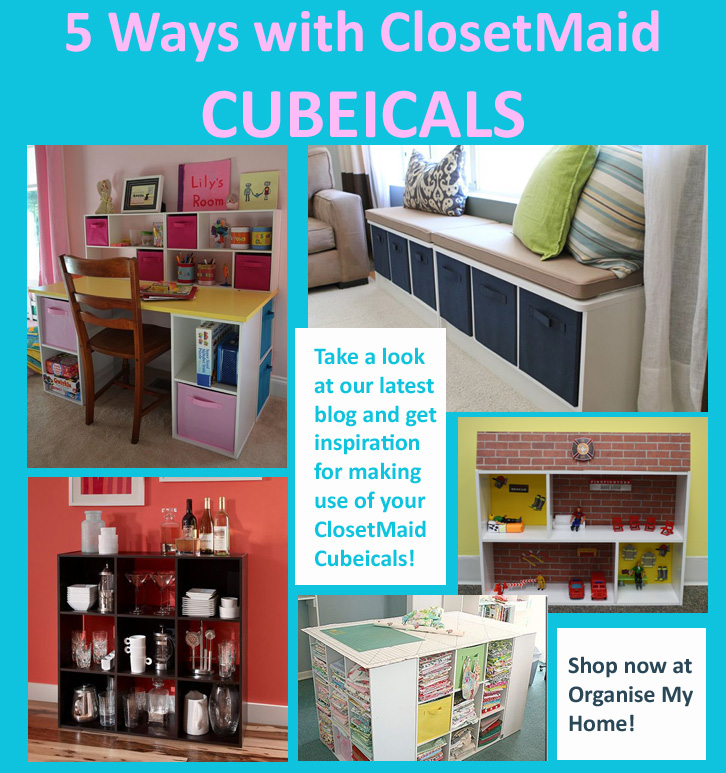 The popular Cubeicals range is the perfect solution to your storage needs all around the home! Here we explore several ideas of how to use your Cubeicals units, and take a look at some less conventional uses to help you make the most of your space and your Cubeical! Shop the range for yourself by clicking the link below:

Buy ClosetMaid Cubeicals.
Kids Storage!
Kids have a LOT of stuff!
From toys, to craft supplies, from clothes to shoes and everything in between! It can be a struggle to keep their room organised, and create space to help them stay organised too.
Cubeicals is a fantastic way to get your kids oragnised, and encourage them to keep their space neat and tidy too!
This desk area uses 4 x White 2 Cube organisers to create a platform for a desktop. On top of the desk are 2 x Mini Cubeicals offset organisers in white. All of these teamed with fabric drawers in pinks and blues provides plenty of storage for your child's stuff and encourages their artistic side with a great work space too.

Create a thrifty dolls house!

The Mini offset cubeicals unit shown here looks great as a thrifty alternative to a dolls house!
Add a splash of imagination and your child has a unique and blank canvas to create their own play house all for just £19.99!

Drink anyone?
Never be caught out when guests turn up!
By using one of our Cubeicals units as simple sideboard for all your glassware, cocktail making equipment and serving wear, you'll create a simple and budget friendly storage area for all of your entertaining needs.

Each cubby holds up to 10lbs/ 4kg, so you're able to rack up the bottles in time for your next get together!

Choose from three Finishes and five sizes to suit your home!
Get Crafty!
Handy craft desk creates tonnes of storage!

Use the Cubeicals range to create a brilliant craft desk and unique storage space. This desk uses four of the white 9 cube organisers back to back with a large desk top above. Add some fabric drawers to co-ordinate with your stored items and make it easy to find what you're looking for!
Multifunctional Storage!
Create a multifunctional storage area with Cubeicals bench.

Available in White or Espresso, comes complete with a Mocha Cushion for stylish and useful seating.

Add fabric drawers to colour coordinate with your space!