Creating an orderly coat cupboard
21 February 2014 | Sally
With the miserable weather of late and April showers just around the corner, is it time you got your coat cupboard / storage area in order? Here we show you how to create some simple solutions to get you and the family organised.
Step one - Streamlining your 'stuff'!
The first step of organising your coat cupboard, cloakroom or mud room is to streamline what's being stored in the space. Most of us have more than one coat or jacket, along with plenty of accessories, but do you really need to store them in the coat cupboard at all times? If you have closets or wardrobes you can use too, streamline your coat area by keeping the one or two coats / jackets each household member uses day to day. Occasional coats and jackets can be moved to wardrobes elsewhere in the house.
This helps keep your coat storage area tidy and functional for the time of year and your typical usage but also keeps the entry way to your home tidier as coat storage tends to be in the hallway! This will make first impressions to you and your visitors much less chaotic if you have an organised and clutter free space for coats.
Step two - Selecting the storage that's right for you
Everybody uses their coat storage area differently and we of course have different sized spaces for storage. Think about how you currently use the space and how that will translate to your new storage area. If you use hooks at the moment, you're probably going to continue to do so, in which case there's little point purchasing a system that requires coat hangers unless you're unhappy with your current storage solution, and vice versa!
So what can you do to improve the way the space is used? Stick with what you know for the bulk of storage but why not add some additional hooks or hanging space to take any increase in the load. Consider adding shelving or drawers for accessories such as hats and gloves, scarves and dog leads etc. Add shoe racks so that they don't pile up in a messy heap! The simpler the solution the better
Step three - Make your purchase and set aside the time to revamp the area
Often the hardest part of change is committing the time to put it into action! Therefore once you have got your shopping list of items to re-organise your coat storage area, make sure you set aside half a day to install / implement the new storage system! Once it's done, you're ready for all seasons and to wage war against clutter and the "stuff" that find's itself in your home each day!
Below we have included some great products which will help you create your perfect coat storage solutions!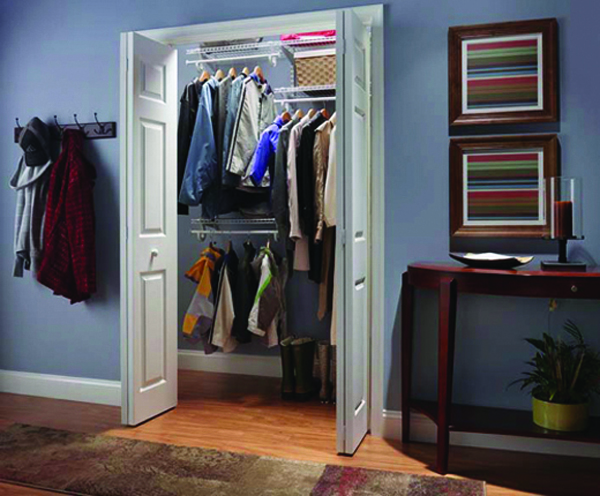 Our Cloakroom layouts are ideal for creating coat storage space whether you have a dedicated room / closet or simply a free wall to install the shelving onto.
The layouts come with all of the shelving and hardware you need to create the designs as they're shown. Simply select the design that bests suits you and your home and the size nearest to your space. Remember you can trim the shelving down to suit your exact measurements if required.
This shelving system is great as it uses our adjustable ShelfTrack system which allows you to reorganise the system as children grow or needs change. You'll get three hanging sections for long coats, kids coats and short jackets as well as shelving space for accessories! Available from £139.00 click here to see more details on this cloakroom package.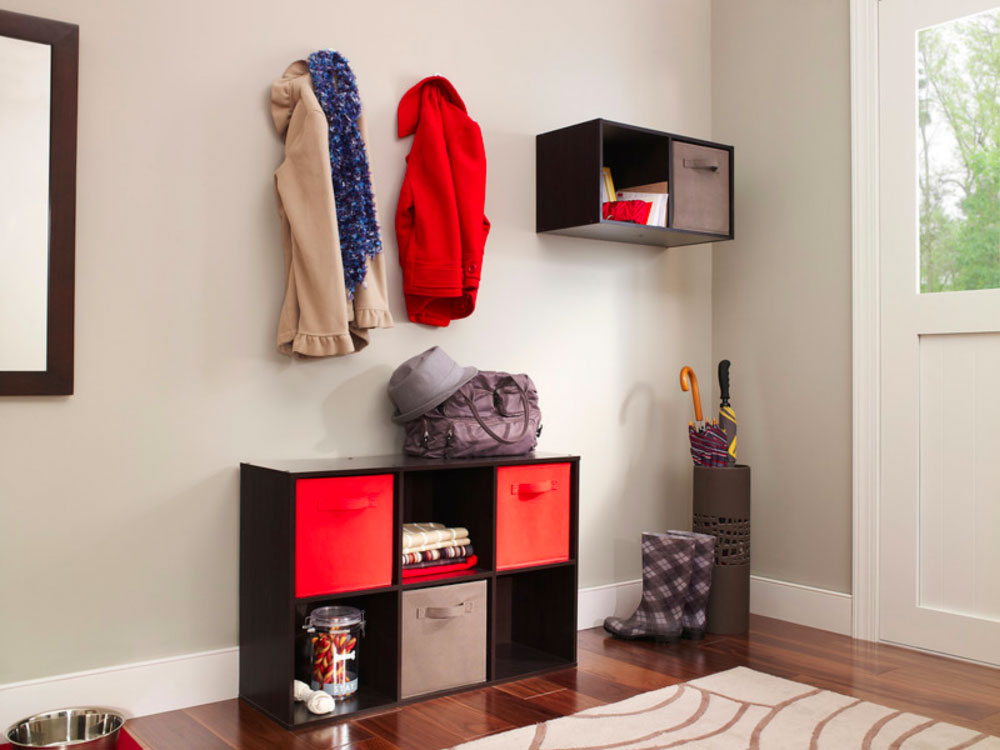 Keep it simple with some coat hooks, and add some drawers / shelving or these Cube organisers for additional storage of shoes, accessories, post, pet items, bags etc! You can choose from espresso finish as shown, alder or white laminate organisers in a number of sizes to suit your space and your home style. Use on their own or add fabric drawers to personalise your space. We have twenty colours to choose from (red and mocha shown).
Click here to view our Cubeicals range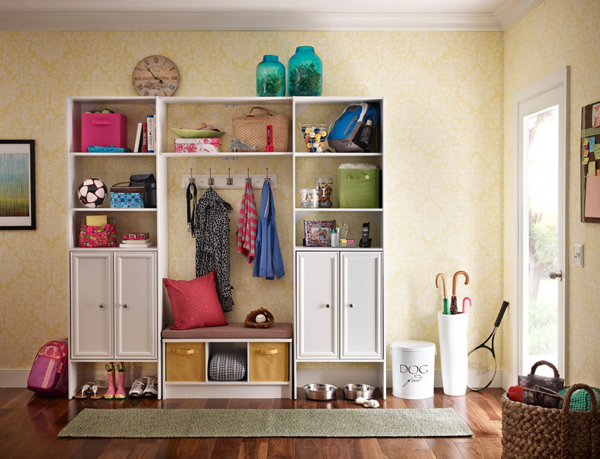 Create a system using our ClosetMaid Selectives range and Cubeicals range. Here is a great example of how to turn a bare wall into functional storage space. Using four of our three shelf organisers stacked ontop of one another to create two storage towers either side of a Cubeicals bench, you can see just how much space you can create on a single wall. Add a coat hook or a Selectives hang bar for coat storage, and some cupboard doors and fabric drawers to hide unsightly items, and the whole space looks great when in use too.
For this design you will need:
1 x Cubeicals Bench in White
2 x Selectives closet organisers in white
2 x Selectives white panel doors
2 x Selectives top shelf
2 x Cubeicals Yellow Fabric Drawer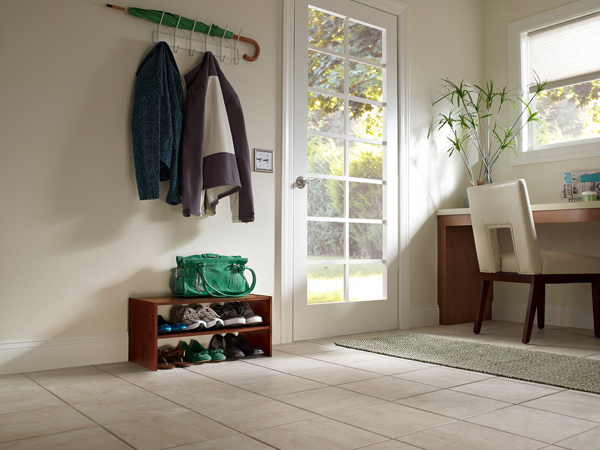 You can't get much simpler than this! When space is tight, a coat hook and a small shoe shelf is all you need. Take a look at our range of hooks and our range of shoe racks here.
Get the look and order:
1 x Chrome utility hook
1 x Cherry 24" wide organiser
If you'd like to find out more about any of our products or would like someone to help you decide what you might need, why not give us a call on 01622 872006 or email us at: sales@organisemyhome.com