Is it time you got crafty?
12 October 2013 | Sally
With Halloween coming up, do you have fun creating spooky decorations and costumes for your little monsters?Or do you and your family love creating handmade cards and presents for loved ones at Christmas?
Well if you and your family love arts and crafts, perhaps it's time to consider a suitable storage solution for your hobby / work area!
We've put together a great selection of products which will help turn any space into a useful hub for all things glittery and pretty!
Kids Room Solution
Our Mini Cubeicals range has proved popular since it's arrival in the summer, and it's ideal for creating space in your children's bedroom for arts and craft storage, toy storage or even CD's and DVD's.
This Mini Cubeicals offset organiser is priced at just £19.99 and the mini fabric drawers are available at £7.49 per twin pack.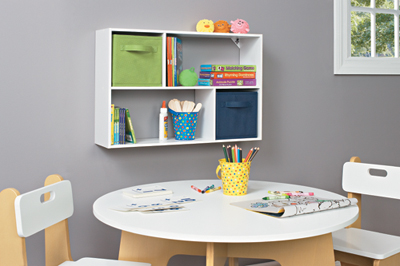 Small Space Storage Solution
The Cubeicals range is also available in Alder and Espresso colours...did you know that? The Alder colour is a lovely warm finish which blends in well with other natural wood furniture in your home. Add some fabric drawers and this little unit gives you plenty of space for all of your accessories, books, fabrics etc. that you need to create the perfect present this Christmas and keep the children entertained and your home tidy all in one go! The Alder 9 Cube laminate organiser is available for £67.49. 9 Cube unit also available in White or Espresso finishes.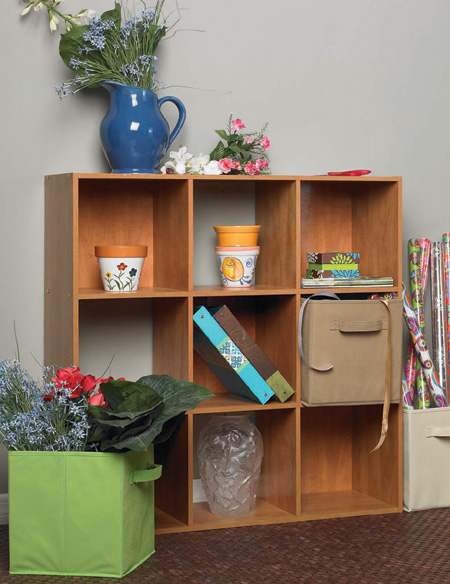 Integrated Storage Solution
Using one or two different units together can help make the most of your space whilst staying in keeping with the design of the room. You can add to your storage space at a later stage too without new items looking out of place. Cubeicals is again a fantastic range for doing just that. Start small with one or two units and as your needs change you have the option to purchase more units to complete your storage system. Keep your clutter at bay by including storage baskets in the form of our fabric drawers. They help make tidying up simple, and you can use them to easily transport little items such as pens, beads, sewing items etc. to your work station.
Here you can see 2 cube, 6 cube, 8 cube and 9 cube espresso laminate organisers working seamlessly together to give ample storage. The Fabric Drawers provide great catch all space and add pops of colour to the room!
All available from our cubeicals range.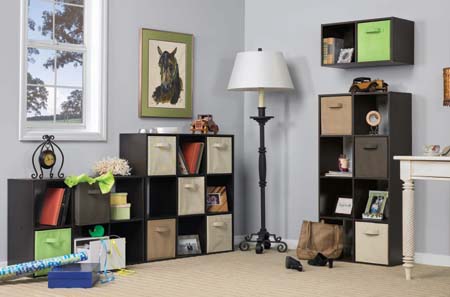 Adjustable Storage Space
Looking for a solution that you can adjust over time? This is key with a growing family. Perhaps now you and the children use the space to work on your home made birthday cards together, but when they get too old for it, you're likely to want to change the system to adapt to your new useage. Perhaps a homework station!
So invest in an adjustable system like our ClosetMaid ShelfTrack range and you'll be able to keep your options open.
Wire shelving and accessories can be arranged to maximise storage and create space for all manner of things, while the track system is simple to install and even take away with you if you move!
Why not request a custom design or take a look at our home office packages here. Image shown is our Craft Room Package available from £255.00.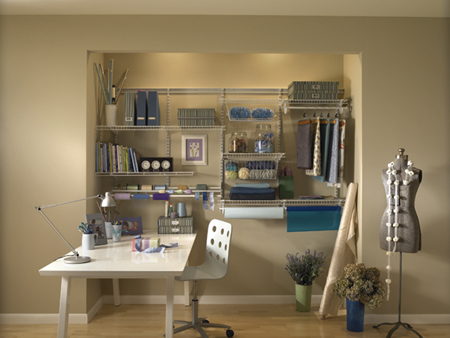 Get The Look!
Lastly, we show you exactly what items go into making one of our fabulous arts and crafts storage systems!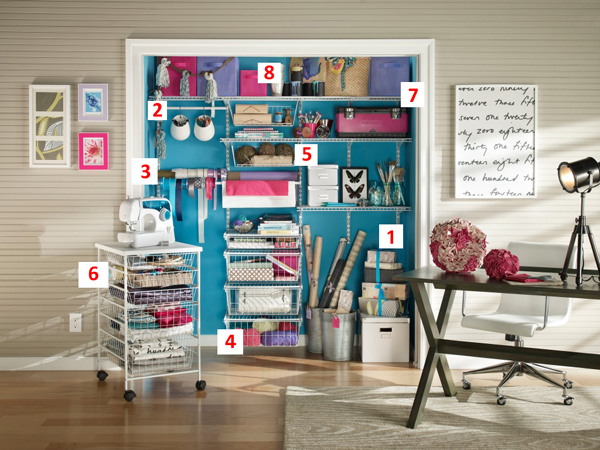 1) ShelfTrack fixing system with 12" (30.5cm) deep wire shelving.
- Measure the width of your available storage area / wall space and decide how wide you want your overall storage space to be. This will need to be the size of your Horizontal Hang Track, which serves as a support for your vertical wall standards explained in the next step.
Available in 24" (61cm) / 40" (102cm) / 80" (203cm) lengths, you can use the individually, use two or more together or cut them down to suit!
- Next decide how close to the floor you want each section to be. This will determine the length of the vertical wall standards that the shelf support and accessory brackets fix to. They are available in 12" (30.5cm) / 30" (76.2cm) / 48" (122cm) / 60" (152cm) / 84" (213cm) lengths. Remember, wall standards should be placed no more than 24" (61cm) apart, some accessories such as drawers determine the spacing between wall standards.
- Now select your shelving. The SuperSlide shelving is most popular as you can add hang bars to it should you require them. Available in 4' (1.22m) / 6' (1.83m) / 8' (2.44m) / 12' (3.66m) widths, you can trim them down with boltcutters or hacksaw to suit your dimensions. Remember to add end caps (10 per shelf - product code #203) to finish your shelves off nicely.
2) A Hang bar isn't just for clothes! Add a SuperSlide hang bar to your system and look, it turns into this neat storage solution. Use with old fashioned meat hooks to hang buckets / baskets of small items that you want to keep to hand!
3) Get artistic with your storage space as well as your creations by using this simple shoe rack as a ribbon / wrapping paper reel holder! Each ShelfTrack shoe kit comes as a pair providing you with four poles on which to store your ribbons, fabric or wrapping paper! Made from steel they'll hold a considerable amount of weight and their tubular, telescopic design means that you'll be able to expand this section from 24" - 42" (61cm - 107cm) wide as desired!
4) Add ShelfTrack drawers for loose items. Keep them to hand in these wire baskets made from steel with a clean white finish. 2 x two drawer kits shown here!
5) Why not try our hanging baskets too? They make great cubbies for storing books, wool, paper... anything really! Each sold separately!
6) Create extra space on wheels with a freestanding drawer unit. This drawer unit uses a 7 runner frame, you can choose from single depth, double depth and triple depth drawers to suit you and what needs storing in your home! Add lockable casters and a plastic moulded top to create a storage a work station space all in one!
7) Add colour and extra grab and go storage space with Cubeicals Fabric Drawers. Available in a variety of colours!
8) Or try adding Mini Fabric Drawers! Available in beautiful colours and sold as a twin pack, you can add space to your storage area with or without the cubeicals laminate organisers.
Happy Crafting!!