Get The Look! ClosetMaid adjustable wardrobe design
26 February 2014 | Sally
Looking to create a simple closet or wardrobe solution that can be changed over time or even used in different applications? We show you how to create this design using the adjustable ClosetMaid ShelfTrack system. It's perfect for wardrobes, utility areas, kids closets or guest storage. Read on to find out what you need to complete the design. This design will suit closets between 183cm (72") and 290cm (114"). For the purposes of pricing, we'll assume that the closet is the full width (290cm / 114" wide).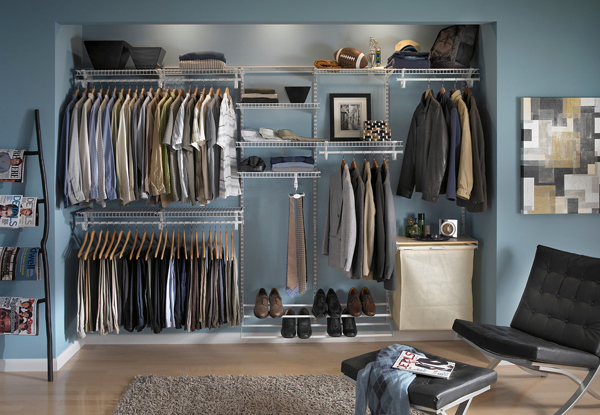 ShelfTrack - it's as easy as 1, 2, 3!
The ClosetMaid ShelfTrack system is really simple to install, as well as design but if that's not a good enough reason to buy, then consider the flexibility too. Each shelf or accessory is installed onto the Track system which allows you to move, take away or add shelving as and when you need! So if you need to plan your child's wardrobe, you have the option to change it around as they grow out of their baby clothes and into their big clothes! Or plan for when the children move out, and you want to reclaim their bedroom as a convenient guest bedroom and second storage area. The possibilities are endless with ShelfTrack.
1) To start, order your horizontal Hang Track. This is the track at the top which runs the width of the closet. You will need to measure your space and order enough track to span your closet. They come in three sizes and can be used together if you need to order more than one, or can be cut down with a hacksaw to suit your space!
Hang Track available in 61cm / 24", 102cm / 40" and 203cm / 80" widths
For a 290cm / 114" wide space, you would need 1 x 102cm / 40" Wide Hang Track and 1 x 203cm / 80" Wide Hang Track. Cost £30.98
2) Next you need to order your vertical Wall Standards. These are the tracks that the shelf support brackets fit into. They should be spaced no more than 24" (61cm) apart, but can be spaced closer together if required due to your design. For this design in a 290cm width, you will need 6 vertical wall standards.
Wall standards are available in a variety of lengths which allow you to essentially hide the track fixings behind shorter sections of storage space if you do not need the extra length, or allow space for obstacles such as radiators etc. However, this design we've included the maximum length wall standards for maximum future flexibility!
Vertical Wall Standards available in 30.5cm/ 12", 76.2cm/ 30", 122cm/ 48", 152cm/ 60" and 213cm/ 84" lengths
Fixing kits are also available for the Hang Track and Vertical Standards.
For this design we'll use 6 x 213cm/ 84" wall standards. You'll also need 2 x packs of fixings kits Cost £97.82
3) Lastly you need to select your shelving, support brackets and any accessories. Note that for when working out how many shelf support brackets you need, you will need one per shelf, per wall standard that that shelf passes. See image below. All accessories come with necessary fixings so you won't need any extra brackets for these.
Therefore you will need 14 brackets for this design in a space up to 290cm / 114" wide. We are using our regular 30.5cm / 12" deep SuperSlide shelving, so you'll need the 12" deep ShelfTrack brackets.
ShelfTrack Brackets 30.5cm / 12" deep
14 x Brackets Cost £62.86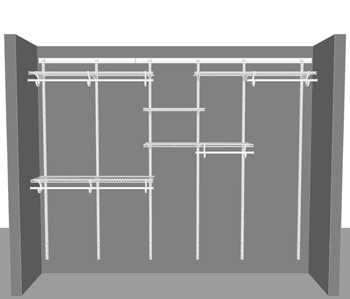 Next you need to order your shelving. SuperSlide shelving is available in a variety of lengths and can be trimmed to suit your exact requirements. Then all you need are the small plastic end caps to finish off the ends and prevent snagging.
SuperSlide shelving 30.5cm / 12" deep
Small Plastic End Caps
For this design you will need:
1 x 183cm / 72" length (cut to make 1 x 61cm wide and 1 x 106cm wide shelf)
3 x 122cm / 48" length
50 x Small plastic end caps
Cost £47.96
Now for the hang bar! Again our SuperSlide hang bar is available in a variety of lengths, and you can trim hang bar down using a hacksaw, finishing the ends with our SuperSlide hanger bar end caps for a neat finish.
SuperSlide Hang Bar
SuperSlide Hanger Bar internal end caps
SuperSlide Hanger Bar Support
For this design you will need:
3 x 122cm / 48" length (1 x length cut to make 2 x 61cm lengths)
8 x SuperSlide hanger bar internal end caps
10 x SuperSlide hanger bar supports
Cost £55.37
Lastly you can include your accessories to store shoes, scarves, dirty laundry, ties etc. We have more in our range of accessories here to choose from to get you and your closet totally organised. The one's included in the design are shown below.
Tie & Belt rack - £24.99
Shoe Rack - £24.99
ShelfTrack Elite Hamper - £69.99
Total cost of closet - £414.96
For less than £500 you can get a fully functional closet that will grow with you and the needs of your family! You'll also maintain the flexibility to change your storage space over time to suit. If you'd like to have a go at designing your own ShelfTrack closet, use the links above or click here to find all the hardware and shelving you'll need on our website!