Back to University Spring Clean!
9 April 2014 | Sally
Time off for Easter is great, we get to spend time with family and friends, pig out on chocolate and for many of us we use the time to get organised and spring clean! If you're one of those people and are heading back to uni at the end of the month, or perhaps you have a son or daughter going back, then why not take a look at our dorm room tour and see how you can get organised for next term. You can even take tips for your school kids' bedrooms or study.
Read on below to get information on all the products used.

Stackable Storage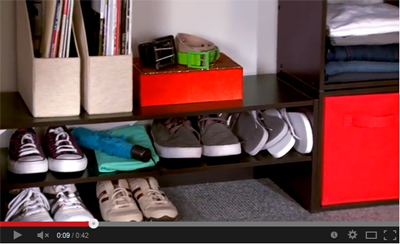 Our 24" (61cm) wide stackers are great for adding shoe storage in an existing closet.
They freestand and stack so you can purchase two or more to create a shoe storage tower if required.
Shown in espresso. View the range by clicking here!
Cubeicals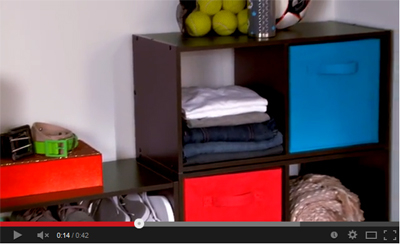 Our Cubeicals range is ideal for all applications as it's so flexible. Available in three different finishes and 7 different sizes, you're sure to find something to suit. You can also stack the Cubeicals range, as seen here.
In this clip, you can see two of our 2 Cube Espresso Organisers stacked ontop of one another to neatly provide space in a closet for accessories and folded garments.
Add fabric drawers to complete the look. Choose from over 20 colours. Shown here is our Red and Royal Blue Fabric Drawers. To view the Cubeicals range, click here!
SuperSlide Wire Shelving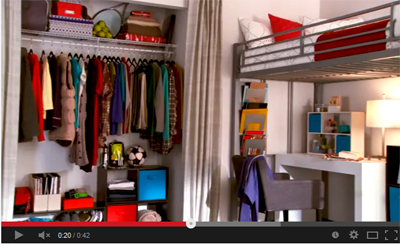 Add a simple wire shelf and hang bar to create hanging space in your closet. You can purchase the shelf and hang bar separately along with the hardware required, so you can create a closet solution perfect for the dimensions of your available space. SuperSlide wire shelving is made from 90% recycled steel with a white vinyl coating for a clean finish which will prevent rust too. You can trim the shelving down just as you would with a wooden shelf if required, and ClosetMaid shelving comes with a number of hardware options to allow you to fix the shelving even if side walls are not available. There's no excuse not to be organised this Spring!
Take a look at the SuperSlide shelving and hardware used in this dorm room, here!
Mini Cubeicals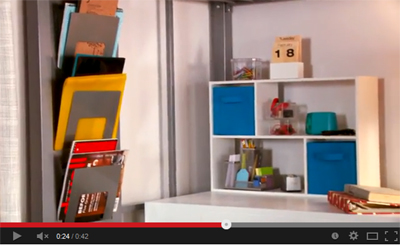 Mini Cubeicals make the perfect addition to any desk or workspace area. Perfectly sized to organise stationary, keep sakes, discs etc. whilst looking great too! This is our Mini Cubeicals Offset organiser in white, it has two of our mini fabric drawers in ocean blue. With a starting price of just £19.99 for an organiser, it's the easiest, best value way to organise yourself, your kids or your office this Easter!
See the Mini Cubeicals range here.