Discover Organiser Kits & Live Clutter Free With ClosetMaid
7 October 2015 | Sally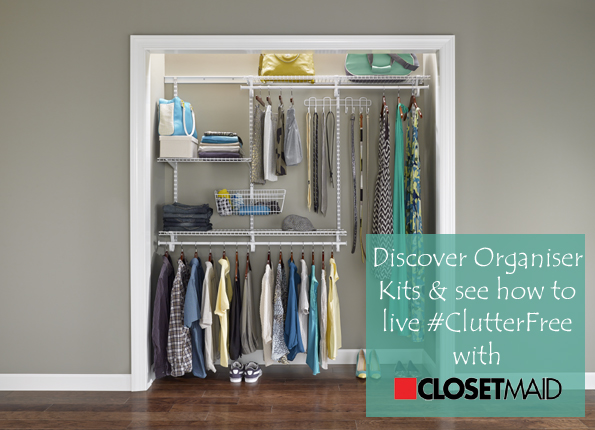 ClosetMaid Organiser Kits are a simple and effective way of creating order in your wardrobe, closet, coat cupboard, utility room...pretty much anywhere around the home.
We have a brilliant range of styles and sizes to choose from to help you find a solution to suit your needs.
Our Organiser Kits are pre-packed to include all shelving and hardware you need to create the design as shown in the images and product description. If you choose one of our adjustable Organiser Kits, you have even greater flexibility to change the position of shelves etc. to meet your requirements!
All you need to install a ClosetMaid Organiser Kit is Pencil, a Tape measure, a Spirit Level, a Philips Screwdriver, Hammer/ mallet, Cordless drill, hacksaw and a step ladder! Everything else is included in the box. You can find out more about our general assembly information and tool requirements here.
Below we've picked out some of our favourite Organiser Kits and run you through the benefits of each one.
You can see the full range of ClosetMaid Organiser Kits by clicking here!
Product Code & Description
Click link to be taken to item on our website.
Product Image

Benefits of Organiser Kit

2873 - 1.22m/ 4' - 1.83m/ 6' Wide Organiser Kit

£159.99

Organiser Kit uses adjustable ShelfTrack fixing system




Kit uses SuperSlide shelving 30.5cm/ 12" deep.

Includes all shelving and hardware




Can add ShelfTrack accessories to kit (shown here with 2840 ShelfTrack basket and 2842 ShelfTrack hooks)




Easy one step levelling installation system using ClosetMaid ShelfTrack

1608 - 1.52m/ 5' - 2.44m/ 8' Wide Organiser Kit

£119.99

Suits spaces from 1.52m - 2.44m wide.

This kit is a great solution for wardrobes or guest closets.

Includes space for two tier hanging garments, long garments and shelving for folded items.

System uses original ClosetMaid regular fix installation method.

Kit uses 30.5cm/ 12" deep Shelf & Rod shelving.

2875 - 1.83m/ 6' - 2.44m/ 8' Wide Organiser Kit

£259.99

Organiser Kit uses adjustable ShelfTrack fixing system




Kit uses SuperSlide shelving 30.5cm/ 12" deep




Includes Shoe rack, other ShelfTrack shelving & accessories can also be added.




Easy one step levelling installation system using ClosetMaid ShelfTrack