How To Make The Most Of Your Space
11 February 2016 | Sally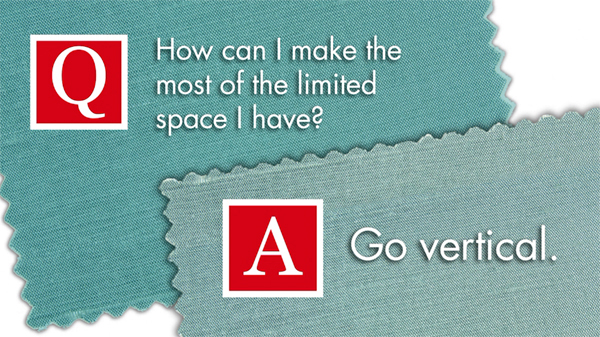 One of the common mistakes we see in Closet Design is people not making the full use of their available height.
The same can be said for any storage space around the home.
If you have an available wall, it's easy to maximise your storage space, and regain closet/ floor/ worksurface space by going up!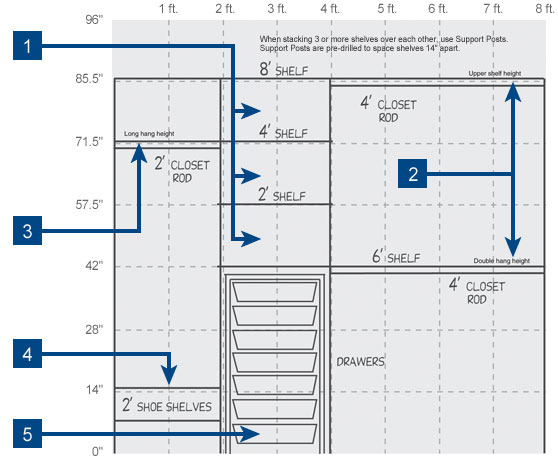 When planning your space, as well as the width and the depth, ensure you measure the height of your space.
To help you plan, we recommend the following spacing for shelving and hanging sections:
Long hanging space - 1.8m/ 72" - 2.1m/ 84" from the floor, depending on the longest length of your garment on it's hanger. Typically maxi dresses/ ball gowns will require 2.1m/ 84" of height, while regular Cocktail/ Day dresses, and overcoats will only require 1.8m/ 72" of space.

Two tier hanging space - Top rack 2.1m/ 84" from the floor, lower rack 1.05m/ 42" from the floor. You can adjust this to suit if you have childrens clothing to store etc. We recommend you measure a typical garment on it's hanger and use this as your guide. Be aware that the hang bar sits 10cm/ 4" below the shelf level when using SuperSlide shelving and 5cm/ 2" below the shelf level when using Shelf & Rod.
Shelving Space - We normally suggest a 36cm/ 14" gap between shelves for flat and folded items/ bags/ boxes. When using the adjustable ShelfTrack system, you can easily adjust this height as and when you need to. When using the regular fix method you will need to ensure the spacing before you install. You can deviate from the recommended shelf spacing, but be aware, if using the shelf support brackets which come down at an angle from the front lip of the shelf to the rear wall, you will be more limited as to how closely you can place the shelves.
Shoe Rack - We recommend 25cm/ 10" between shoe racks. This should give enough space for most shoes, however very high heels or boots may need larger gaps.
Suits/ short dresses - ClosetMaid recommends 142cm/ 56" from the floor/ shelf below for storing suit jackets, trousers hung at their waist band, or shorter dresses and tunics.
Ready to design your own ClosetMaid system?
Click here to find all hardware and shelving using our Regular Fix mounting system
Click here to find all hardware and shelving using our Adjustable Shelf Track mounting system