Looking to create a dedicated space for doing your laundry?
29 March 2014 | Sally
A recent survey conducted by the Royal Institute of Chartered Surveyors, revealed that dedicated laundry space and storage is one of eight key features people need and want in their homes.
In truth, dedicated space for everything is what we all want, but for all of us laundry is a necessary evil. Even if we don't have a utility room, or even an airing cupboard, there are things we can do to get organised and make the most of the space that we do have to ensure that laundry isn't such a chore every week!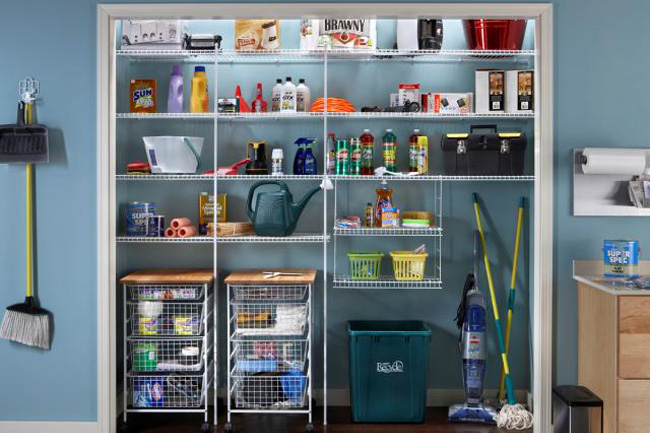 Dedicate space for your laundry and utility requirements
Whether you have a room that you can commandeer as a utility room, or if you simply have to make an area of space, keeping everything together in that one space will help enormously on laundry day.
If you have a room that you're able to dedicate to laundry, make the most of it by adding shelves to store cleaning products, extra towels, even those odd socks that are waiting to be reunited with their partner! To keep things off of the floor, add wall racks and hooks to the walls for your iron, ironing board, broom and mop etc. This will give you space on the floor to put up a laundry airer or washing line so that you can still do laundry without making the rest of the house look like a dry cleaners! Adding a heating source to this room will help too. Whether its a radiator or a plug in heater, it will help dry your clothes quicker.
If you're using our ClosetMaid range, why not include a hang bar to your shelving so you can hang shirts and other items that require ironing. Hanging them on a coat hanger to dry prevents that crease from pegs, or the crinkle effect from the tumble dryer, making it easier to iron!
If you don't have the luxury of an entire room, the obvious space to make a laundry station is the kitchen. More than likely your washing machine (& tumble dryer) are in the kitchen anyway, so keep it all together. Utilise a cupboard to keep all of your washing powders etc. and remember that the back of cupboard doors are great for adding hooks to help store small items such as wash bags or even irons. Use the back of your kitchen door or a spare wall in the kitchen to add hooks for ironing boards, mops and brooms so that you don't have to trip over them each time you walk into the kitchen!
Under the stairs is also a great area to create a laundry room. If you're able to get power into this space, you can gain some cupboard space in the kitchen by moving your washing machine under the stairs. You can also purchase stacking washing machines and tumble dryers so that you can make use of the vertical space. The top of your machine will serve as a shelf, but don't neglect the rest of the space under the stairs. Purchase flexible shelving that you can install with the slope of your stairs in consideration so that you can keep spare linens, cleaning products etc.
Accessorise
As well as adding shelving and deciding on an area of the home to make use of, adding simple accessories can really help to keep you and the rest of the family organised. Drawers are great to keep odds and ends such as sewing kits, wash bags, spare pegs or odd socks together. If you don't have the space for a whole drawer unit, add some simple baskets or our decorative fabric storage drawers are great to keep loose items together on a shelf. They also add colour, which can be useful if you colour co-ordinate your stored items to help you, or individual family members find what they're looking for!
Add tie racks to a laundry area which will double up as a simple space to dry small items such as tights or scarves.
Add an Ironing caddy to the back of a door or a clear space of wall to keep items off of the floor and in their place.
Add a broom & mop holder to a cupboard door or wall to keep items to hand where they're needed, and out of the way where they're not needed!
Use a simple over the door hanger bar whilst ironing to keep clothes from getting creased as you work your way through the pile.
A simple shelf can instantly help you make the most of your available vertical storage space. At Organise My Home we offer our steel wire ventilated shelving which is great for utility areas enabling the air to flow keeping items fresh and dry! One of our prepack shelving kits is a great and easy way to achieve just that, easily.
Create a system
Once you have re-organised the space, to keep it organised you should create a new system to go with your new laundry space! Whether its the day that you wash the darks, the whites or the colours, or that each family member has their own laundry pile to take and put away themselves...whatever it is, make sure that the whole household knows the system and you should find that doing the dreaded laundry actually becomes less chaotic and works for your home as much as it does for you!