Create the perfect laundry area
17 June 2015 | Sally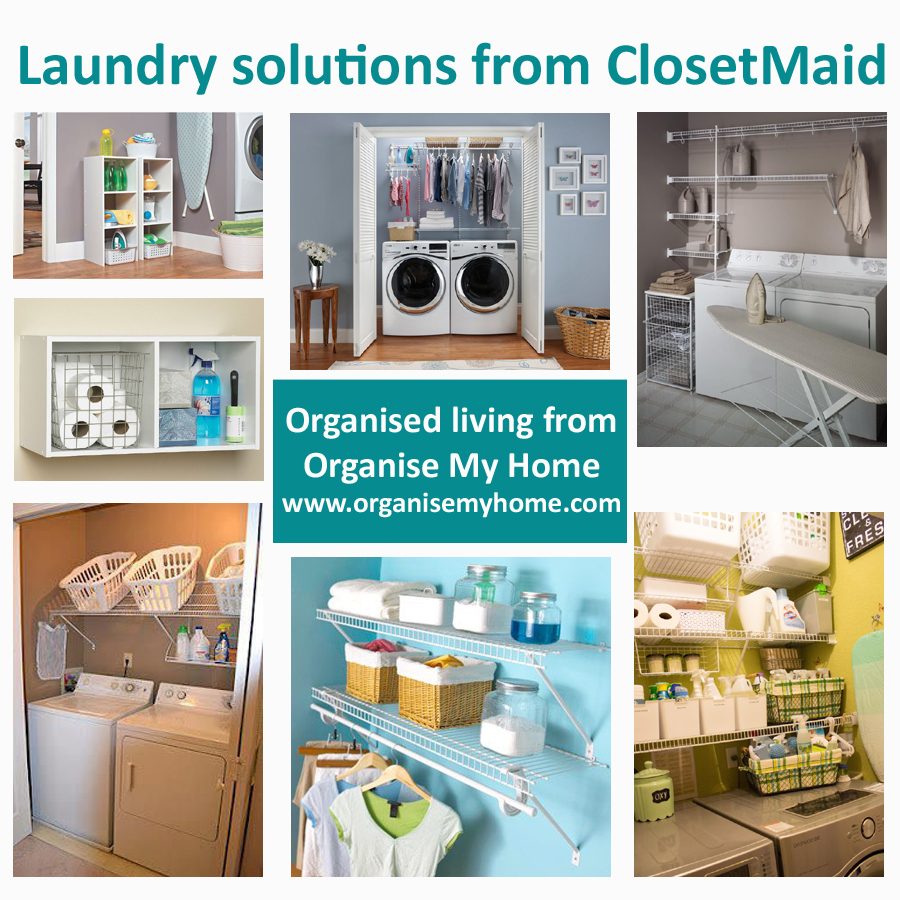 It's not the most exciting subject in the world, but something that every home has to deal with; Laundry!!
In this blog post, we explore ways to help even the smallest laundry spaces stay organised so you can keep of not just the dirty washing, but the clutter too. Click the link below to visit our Laundry / Utility section and search out your perfect solution.
Click here for Laundry & Utility storage solutions.
Here you can see our popular Organiser Kit being put to fantastic use as a simple solution for a laundry area. This design uses our 2873 Organiser Kit which fits spaces from 1.22m/ 4' - 1.83m/ 6' wide.
The kit includes our SuperSlide shelving with our adjustable ShelfTrack fixing system.
The ventilated wire shelving makes ClosetMaid Organiser Kits the perfect partner for laundry or utility areas, as the shelving allows the air to flow and encourages quicker drying!
We love how this kit has been used above the washing machine to make use of the vertical space!
Click here to be taken to the product information page.
Why not make use of our pre pack shelf kits to create simple storage anywhere in your home.

Create a drying area in a warm part of your home by mounting ventilated shelving onto a wall and adding a hang bar.

Our ClosetMaid pre packs come with all the necessary hardware to install your new storage solution, so it couldn't be easier to get organised!
Simply select a shelf that meets your needs and where necessary you can trim the shelves to suit your exact dimensions.
Create a simple tidy up by mounting one of our Cubeicals 2 Cube units to a wall and using the cubbies for storage of extra supplies in your laundry/ utility area.

The cubeicals range comes in White, Alder & Espresso and are also available in a variety of sizes, but we love these 2 cube organisers as they can be wall mounted to make the most of your vertical space.

Take a look at the range here!
For another neat solution to help you keep supplies tidy, our stackers range is brilliant!

Available in a number of sizes and finishes, these useful stackers can (as their name suggests) be stacked on top of one another to create a storage unit unique to your space and needs.

The laminate organisers are a great value storage solution which can be used in any area of the home.
See the range of stackers here!
Of course shelving is often the key element when it comes to creating storage space!

Just look what one handy DIY'er did in their laundry room!

By using a 20" (50.8cm) deep Linen shelf turned upside down, and supported at an angle with our Shelf support brackets, this shelf provides a brilliant storage area for laundry baskets.

Keep one for Whites, Darks and Colours and make them easy to grab by storing them at an angle!

Include a small laundry shelf to store cleaning supplies and you have yourself a functional and organised laundry area!

Click here to purchase Linen shelving and hardware and create your own perfect solution!
We hope this blog helped to give you some ideas for your next storage system. As always our custom design service can be a great way to help you make the most of your space. It's a free service, so we encourage you to make the most of our designers help if any of the products above don't fit your needs!
Click here to request a custom design.