Pantry Perfection!
1 Comment
3 April 2015 |
Sally
In our latest blog post, we show you how to create the perfect pantry which will benefit the whole family.
Create tonnes of storage space for tins, jars, bottles & boxes and make room in your kitchen by delegating infrequently used utensils and appliances to the pantry.
Read on to discover more about our pantry and kitchen products and take our tutorial in creating your own perfect pantry with ClosetMaid!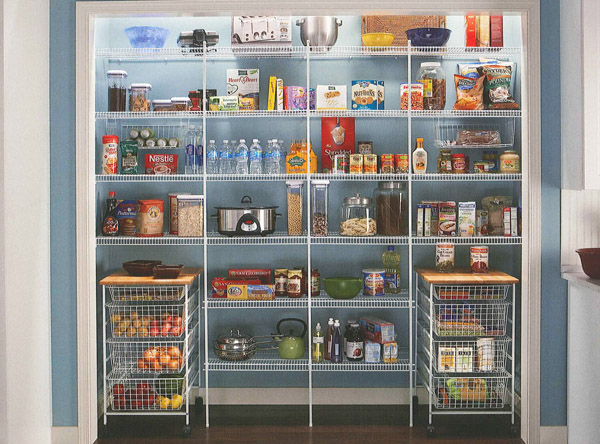 Pantry's are a really great way to regain space in your kitchen. Your pantry needn't be in your kitchen, but if you can afford to dedicate a downstairs cupboard or small section of your utility room, garage or perhaps an alcove in your kitchen to transform into a pantry, you will reap the benefits later.
Whether your space is big or small, you will wonder how you ever managed without your pantry after your installation.
With ClosetMaid's ventilated wire shelving, you can create a storage space that is versatile and will help you to make the most of your space. The ventilated design will also encourage airflow to help prevent moisture building up, or dust settling on those less used items.
Add basket systems to store loose vegetables, or table linen. You can even put them on lockable casters to wheel your drawer system into the kitchen as and when required. Our wooden tops add a bit of style and give that butchers block feel.
Keep things simple and order one of our kitchen or pantry packages to suit your needs Choose the style that best matches your needs and select the size nearest to your available space. Simply trim the shelving down to your exact measurements for a perfect fit!
Click here to view our range of standard packages for kitchen and pantry applications.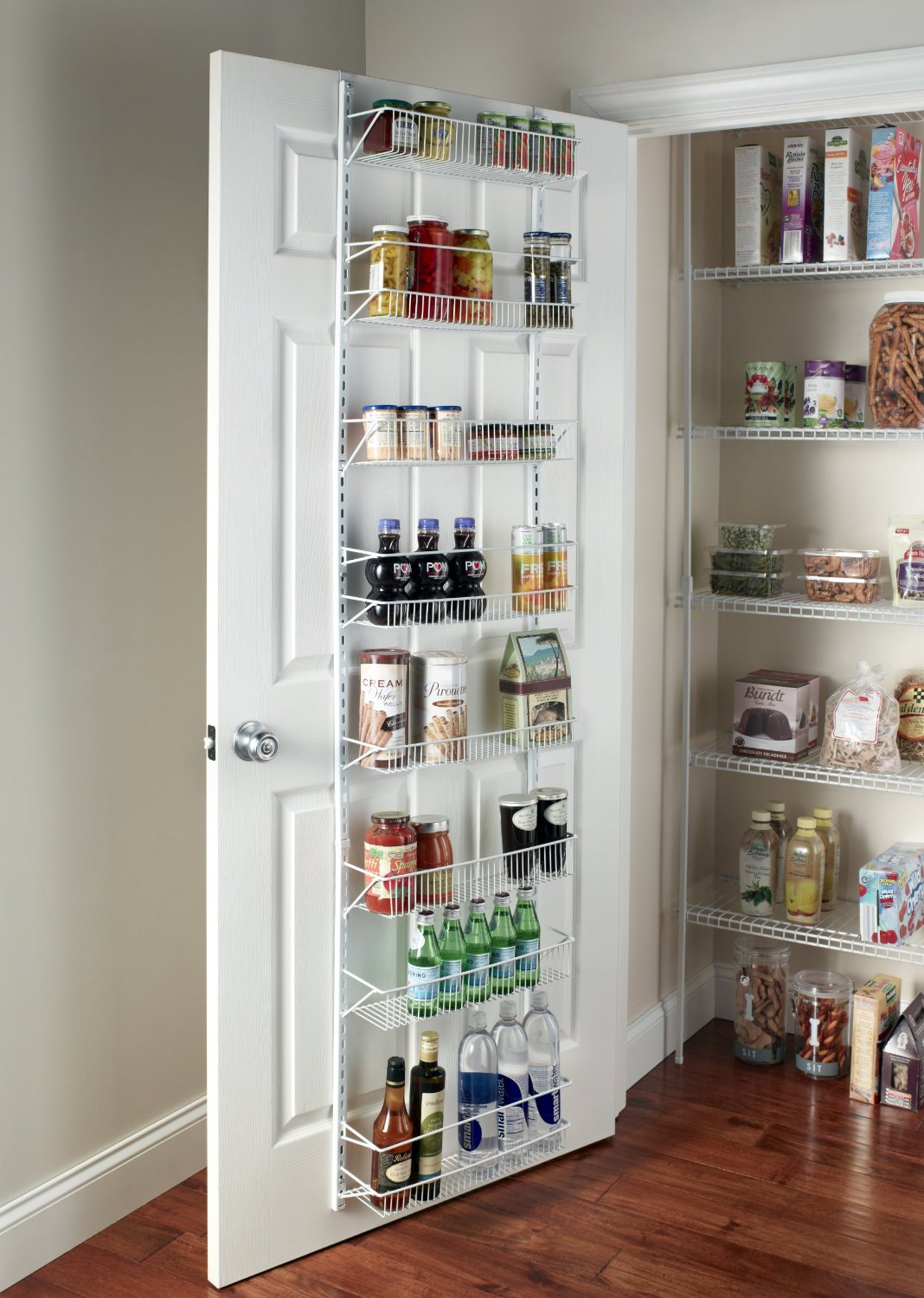 To create a simple pantry cupboard solution like the one above, simply purchase our ClosetMaid wire shelving with an over the door wall rack to make the most of your space.
Not sure what to order? See below a parts list with pricing and links so you can create your own solution and get organised easily.

Use our ClosetMaid 12" (30.5cm) deep shelving to create a shelf stack. Simply order the size nearest to your own available space, and trim to fit your exact dimensions.

SuperSlide 12" (30.5cm) deep shelving can be used for a variety of applications, and because of it's wide range of uses, it also our best value shelf style.
In a full height enclosure (87" - 96" / 220 - 240cm) we recommend five to six shelves. Here we price this enclosure based on six shelves at 3' (91cm) wide.
SuperSlide 12" deep shelving - from £9.99
Required for this design: 3 x 47196 6' / 1.83m lengths = £44.97
Next, add hardware!
To fix this shelving, you will need wall clips that fix the shelf to the back wall of your cupboard/ wall space.
You will need 1 clip at either end of the shelf, and then a further 1 clip for every 12"/ 30cm of shelf.
To work out how many you will need for your space quickly, take the measurement of the shelf to the nearest foot (3' in our example) and add 1 to get the total number of clips (i.e. 3' shelf requires 4 clips)
Wall Clips - £0.30 each
Required for this design: 24 x 991 wall clip - £7.20
To support the shelves, you can use our shelf support poles, which support each end and can be used in the centre of a shelf stack if your shelving is more than 3' (91cm) wide.
Shelf support pole - £19.99
Required for this design: 2 x 1009 Shelf support pole - £39.98
To finish off the ends of your shelving, add end caps. For a 12" deep shelf, you will need 10 per shelf
Small plastic end cap - £0.06
Required for this design: 60 x 203 small plastic end cap - £3.60
Finally add your accessories! In this design, we show a 18" (46cm) wide adjustable wall rack. You can mount it to the back of a door, on a wall or use the hooks provided to hang it over a door. It comes with 8 baskets and three retaining bars to prevent tall items from tipping out of the baskets when you open the door.
Adjustable 18" wide wall rack - £39.99
Required for this design: 1 x 1233 adjustable wall rack - £39.99
Total cost for simple pantry solution: £135.74

A cost effective and easy way to get your kitchen organised this spring!
Want us to design something for you? Utilise our free design service and request a custom design. Simply complete the request form and we'll get back to you with a design and quotation to make it even easier for you! Click here to complete our design request form.