Summer Declutter
17 July 2013 | Sally
With summer finally here, is it time for you to de-clutter and let your house breathe?!
A cluttered home can often appear to be suffocating under all the stuff that just doesn't have a place. At this time of year, it's great to get a breath of fresh air for you and your home. Once it's done, you can get on with your summer entertaining and enjoying what's left of the sunshine!
Identifying problem areas
Most homes have a chaotic area of the home, where "stuff" just gets left! Every available space in that area is swamped with bills, keys, bags, shoes, toys...etc etc. The list is endless! One thing's for sure though, this place is your catch all area, and stuff is left there because it's convenient. What's inconvenient is that this place does not have proper storage for this stuff!
For most people, this catch all area is usually one of two places. 1) The kitchen OR 2) The hallway.
So, where do you start?
Now you've identified the problem, it's time to put it right!
Start with paperwork, a lot of it is important stuff, so it should be made a priority. Get file organisers, a drawer system or "in trays" and place them strategically in your problem area. If it's the kitchen, the work surface next to the door is ideal.
On to shoes, bags and coats...these are a pain, and get everywhere. The thing to do is create a place for them. Hooks, shoe racks, shelving units are all perfect solutions, but a combination of them will do wonders for the tidiness of your home. Dedicate an area in your problem space to house these items and make sure everyone else in the house knows the new home for things too.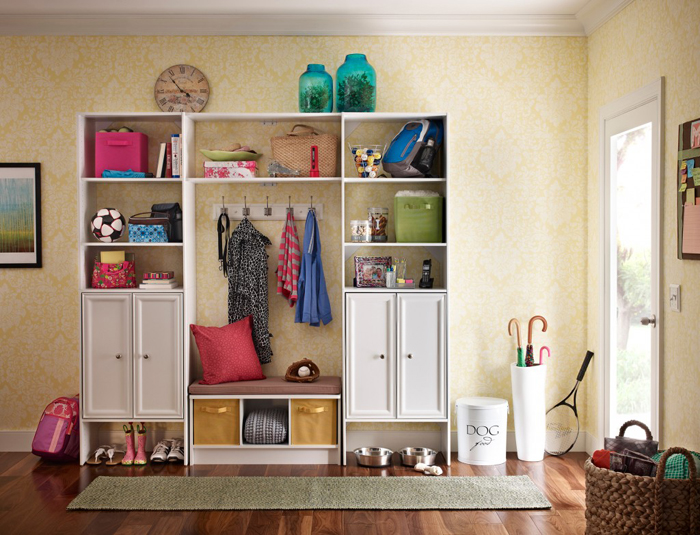 If you're working on your kitchen, free up cupboard space and add shelving and baskets to spare walls.
Make sure you throw out excesses. Cupboards often get full to the brim with spices and tinned goods. Spend some time on sorting through these. Make sure you consolidate or throw away any doubles of dried herbs and spices, and stack doubles of tinned goods to make room on the shelves. Now you can clear stuff that used to have sit on work surfaces and keep them in your newly freed up cupboards!

Add some shelving to any free wall space in your kitchen and create a pantry area for dry goods, bottles, table linen, etc. Invest in some drawers for loose items, either freestanding or fixed like our ShelfTrack baskets. A Pantry doesn't have to be a whole dedicated room, but some simple shelving will make you feel like you've gained new room!
Using bins or storage cubes can also help to maximise the storage on each shelf by creating a catch all for little items. You can also use them to throw everything into quickly when you're expecting guests and don't have the time for a proper tidy up!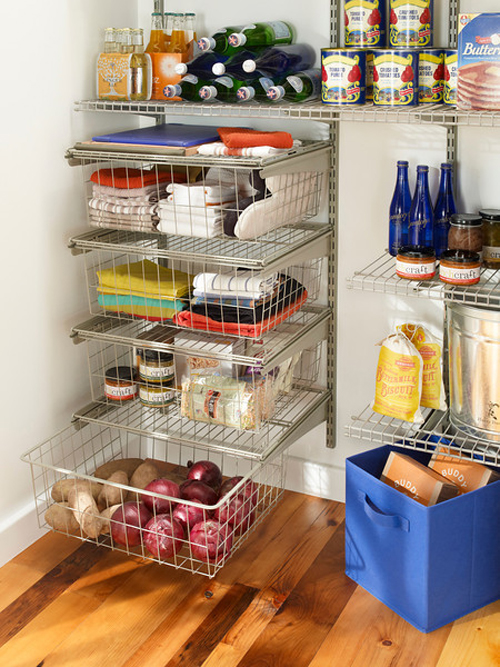 Of course, if you're only looking for part of a solution to your problem area this summer, then consider some simple storage accessories!
Our household hang up is ideal for a variety of things. Utensils - even the BBQ utensils, brooms, keys etc! And you have a choice of chrome or grey finish.
Or how about our Selectives 24" wide stackable storage unit. Available in white or cherry. Great for shoes, but also general shelving. Buy two or more to create a storage tower.
Take a look at our Cubeicals & Selectives ranges too. These modular laminate systems are a fantastic way of solving your storage problems. Use them to de- clutter any room of the home and keep on budget with great value prices.
Cubeicals: Click here to see the range and select your perfect storage solution
Selectives: Click here to see the range or choose from designs to suit you and your storage needs
And don't forget, if you need help creating the best storage solution for you and your space, why not take advantage of our free design service? Click here and complete the Request a Custom Design form. Tell us what it is you're looking to achieve and the dimensions of the space you have available, we'll suggest a whole storage system or simply products that we think will work well.
Thanks for reading!