Tips for planning your storage space
To make the most of your home, you should be making the most of your storage space!
Effective storage can help keep your home functioning and tidy amongst the chaos of home life.
With ClosetMaid, you can turn any wall or room into a useful storage area. If you plan it properly to start with, your new storage system will provide the perfection solution for years to come. Here we have given you some tips and measurements to use to help you maximise your storage potential!
Recommended Hanging Heights
When creating storage space including hanging areas for clothes, consider the type of garment you are storing to ensure enough space.
Shirts and tops will take up less height than dresses and coats, so section your wardrobe/ storage area to accommodate your needs. With ClosetMaid, you can select a suitable height for your garments upon installation, but when planning use the dimensions below as a guide!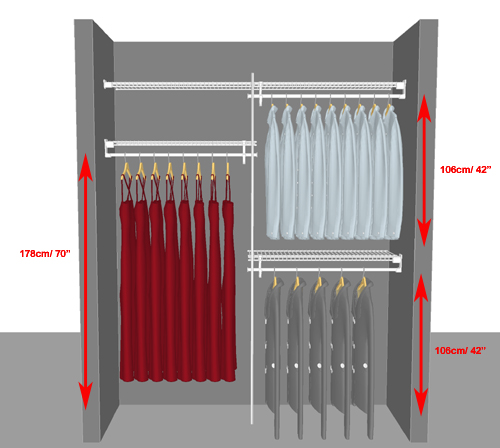 For adult shirts/ tops/ jackets allow 106cm/ 42" of hanging space per level. If you have the height available, double up your hanging sections to create two tier hanging as shown in the image.
For long dresses and overcoats, allow 178cm/ 70" of hanging space.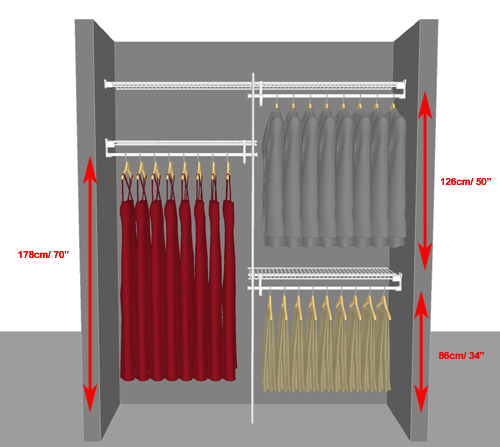 Men's suit jackets will typically be longer than shirts/ women's tops. Allow a little more space for these items. We recommend 128cm/ 50".
If this eats into your overall height too much, consider storing shorts, jeans/ trousers hung over a hanger, skirts etc. on the restricted lower level. You should need around 86cm/ 34" for these shorter garments.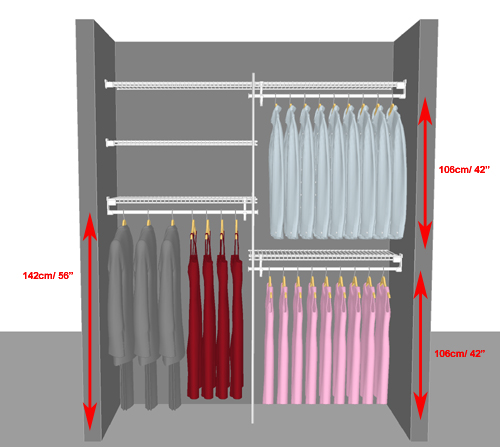 A great way to create a wardrobe space useful for both "Him & Her" is to create multifunctional hanging spaces.
Two tier hanging will give space for short items and give each person their own rail in the wardrobe.
A longer hanging section can be shared and store short dresses for her or trousers hung at the waist/ longer suit jackets for him.
Allow 142cm/ 56" - 178cm/ 70" of height for longer shared space.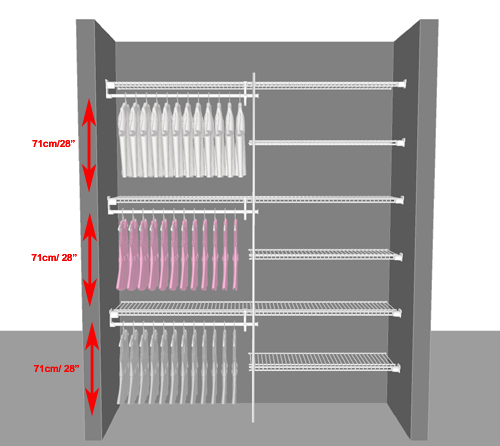 If you're designing a kid's wardrobe, you should allow less height for each hanging section. It will mean that where height allows, you should be able to fit triple tier hanging for the little one's in your home!
Allow 71cm/ 28" of height for each level.
Select an adjustable fixing system so that when their baby clothes, turn to tween clothes, and teen clothes, and then adult clothes, your storage system can adapt to cope!
Recommended depths/ widths for storage
If you have a cupboard or spare room that you are looking to turn into a storage space, take a look at the birds eye images below to understand the depth/ width dimensions we recommend to help you get the most from your storage solution.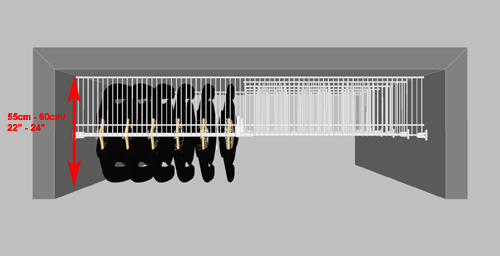 If you'd like to hang garments in your new storage area, we recommend you allow 55cm - 60cm / 22" - 24" of space for adult clothes.
This will vary slightly depending on the garment and the size of the hangers you use, but 55cm is the minimum dimension you should aim for!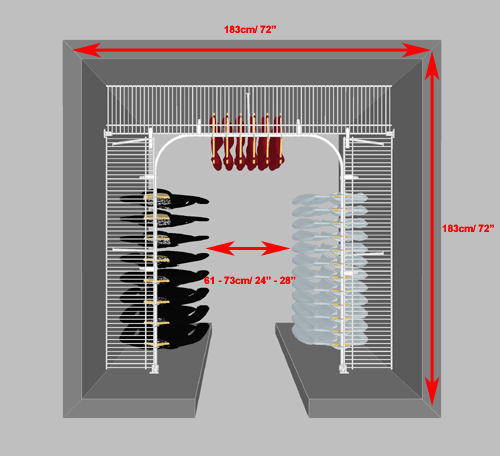 When creating a walk in wardrobe, make sure you consider the width your left with as a "walk in".
If you have a space of 183cm / 72" wide, you can expect to be able to place hanging garments on both side walls, and still achieve a 61cm - 73cm/ 24" - 28" walk in space in the middle.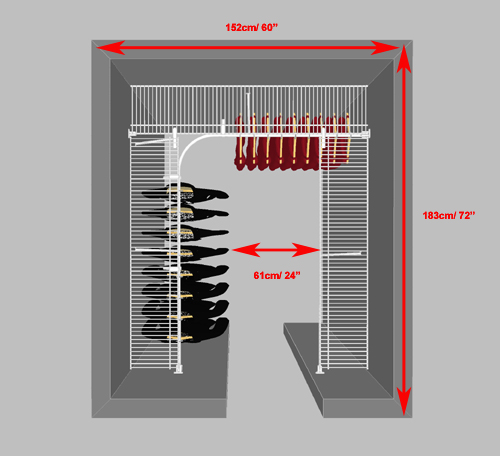 If your room is narrower than 183cm, you could consider creating an "L" shape of hanging garments so that you don't restrict your walk in space.
Above you can see a 152cm/ 60" wide room has a great L shape area for hanging, with shelving only on the right hand side.
This means you can use a smaller room for a walk in closet and still achieve a 61cm/ 24" wide walk in space.
Now that you know some of the basics, check out our range! Click here to discover what options you have available for wardrobes and walk in wardrobe store. You can choose from one of our packages, or purchase hardware and shelving separately to create your dream storage solution!
Need some more help? Take a look at our "How to" guides and get some more detailed information on designing a reach in or walk in wardrobe.
Click here for our how to guide on reach in wardrobes
Click here for our how to guide on walk in wardrobes
Click here for our how to guide on wardrobes with sloping ceilings
Or Click here to request a custom design and have one of our team come up with a plan for you! It's a free design service, so click here to request your custom design today!